Department of Corrections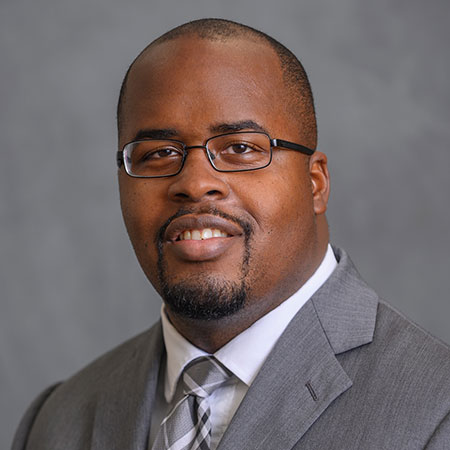 Solomon Graves
Cabinet Secretary
Department of Corrections
Solomon Graves, Secretary of the Arkansas Department of Corrections, has 14 years of professional corrections experience.
Secretary Graves began his public service career in 2007 at the Arkansas Parole Board. He served there until 2016 in various roles, including five years as Parole Board Administrator.
In March 2016, Mr. Graves was named Public Information Officer for the Division of Correction. In July 2019, then-Secretary Wendy Kelley selected Mr. Graves to be her Chief of Staff. He served in that role for one year before Ms. Kelley announced her plans to retire.
Arkansas Governor Asa Hutchinson announced Secretary Graves' appointment as Secretary on July 23, 2020, and the the Arkansas Board of Corrections confirmed him the following week.  Mr. Graves began serving as Secretary of the Arkansas Department of Corrections on August 1, 2020.
Secretary Graves served on Gov. Hutchinson's Transformation Advisory Board from 2017 to 2019 and was appointed to the Transformation Transition Team in 2019.
Secretary Graves earned a bachelor's degree in Criminal Justice from the University of Arkansas at Little Rock and a master's degree in public administration from Webster University. He remains an active member of Alpha Phi Alpha Fraternity, serving as the Arkansas state director.
Welcome to the Arkansas Department of Corrections! The Department is comprised of over 6,000 dedicated employees within the following:
• The Division of Correction (formerly the Arkansas Department of Correction);
• The Division of Community Correction (formerly Arkansas Department of Community Correction);
• The Corrections School System (Arkansas Correctional School District and Riverside Vocational Technical School);
• The Office of the Criminal Detention Facility Review Coordinator; along with the 
• Administrative functions of the Criminal Detention Facility Review Committees;
• Administrative functions of the Parole Board;
• Administrative functions of the Sentencing Commission; and
• Administrative functions of the State Council for the Interstate Commission for Adult Offender Supervision.
We have so many staff that are knowledgeable and talented working and serving our state! They are doing this work because they believe in public safety! Our shared goal is to continue to have a service-minded culture, and by working as one Department, to strengthen our ability to be a science-driven/data-driven team dedicated to continuous improvement. We are in the people business which makes this work difficult and, at times, unpredictable!  
To the best of our ability, we prepare those in our custody and under our supervision to be productive and law abiding citizens. That starts by setting a professional example every day and remaining fair, firm, and consistent in following our policies. Our policies are based on national standards and implemented with safety and security in mind. Being data-driven in our decision making, policies, and practices will improve the success of our mission.
News & Announcements
No current news items.
Public Calendar
No current events.
Documents & Forms
No documents available.